My daughter Caitlin Reese turned 1 year old last month (March 1,2011). We celebrated her birthday last March 6. It was also a series of firsts for me, so I was really excited. It was my first time to plan a party for one of my kids. We had Care Bears for our theme, and that made it even more challenging since Care Bear items are hard to find these days.
Everything was DIY, not because we wanted it, but because we were working on a tight budget. Ca-re had Open Heart Surgery when she was just a few days old and up to now my husband is still paying for borrowed money used for her hospital expenses. We could've just opted for an intimate celebration but I just couldn't resist not giving a party for our miracle baby.
This is Ca-re's second life after all.Thanks to science and the good doctors at Philippine Heart Center, and thanks to The One Up Above.
After all the planning, here's what we came up with:
These are my DIY cupcakes. Actually the cupcakes were bought at the grocery store, I just made the icing and the toppers. Not bad for a first time. Some guests said the icing tastes good.
My sister-in-law's balloon flower centerpiece.
The guests must've liked it, by the time the party ended the tables were bare. Some guests were even complaining.."How come she got two, I didn't get any?"
The colorful pillars were done by yours truly, my cousins and my sister-in-law
The cute CareBear standees were gifts/labors of love from my sister, my brother and my cousin Rachel, yes those are also DIY
My sister-in-law and I placed these CareBear stuffed toys inside a lootbag the night before the party. We stuffed it with candies and confetti. These bears were a big hit among the guests.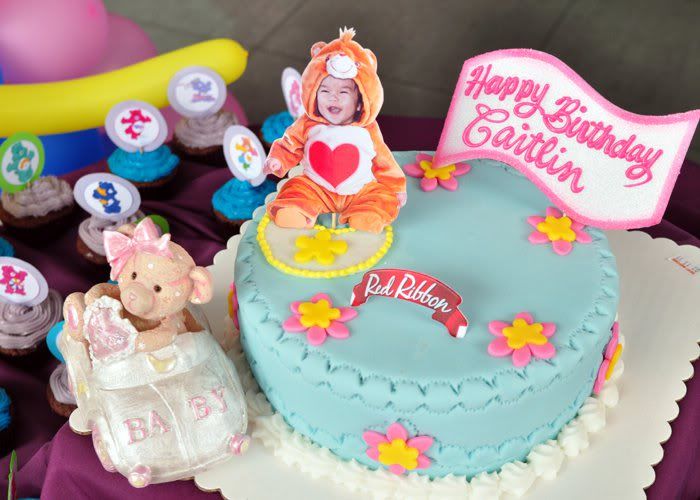 What's a birthday cake without a picture of the celebrant in it,right!
That's my daughter, the cutest celebrant of all.
It was a tiring yet significant learning experience for me, and I enjoyed it. I was blessed with really helpful relatives and friends. My close friends Nicole and Maita helped me a lot. Maita helped me find the caterer and face painter, while most of the party ideas came from Nicole. My sister-in-law Tintin also really helped me a lot, she was my little manager.
Now, I'm looking forward to planning more parties for my relatives and friends.
Looks like I've found my cup of tea.